The Batten Leadership Institute (BLI) has been developing professional leaders through customized organizational training and formal certificate programs for over 15 years. Past participants across industries report immediate value gained in our executive certificate in leadership through exposure to skills they use from day one.
PROGRAM HIGHLIGHTS
Assessments and goal setting
Managing conflict and change
Neuroleadership and emotional intelligence
Team functioning
Feedback from multiple perspectives
Decision making
Diversity and culture building
Embedded mentorship component
Individual coaching and consultation ongoing, as needed
Authentic leaders manage organizations, invest in leadership development and guide organizational change. BLI focuses on conflict management, providing feedback and sharpening decision-making skills. You'll enhance your ability to design and lead teams. Our focus on adaptive leadership, human performance skills, and executive presence will help you navigate organizational challenges.
Fee: $3,800; course materials, assessments, and coaching are included.
---
"Understanding who I am as a leader has always been extremely important to me. Participation in the Hollins program taught me that developing a deeper understanding of others is a true measure of exceptional leadership. The experience was priceless."
Kimberly A.C. Enochs, SPHR, Senior Vice President, Rutherfoord Companies
"The Batten Leadership Institute tailored a development program to meet our organizational needs. The instructors challenged our team to not just learn leadership theory, but to also apply it to major challenges back at the worksite. This was top-notch executive training, provided by extremely knowledgeable faculty, and directly applicable to our work."
Chris Morrill, City of Roanoke
"Hollins University has an outstanding leadership program for women. Not only does the Batten Leadership Institute provide you with the resources to learn and grow but it also gives you the opportunity to meet and share with other professional women. I would truly recommend this program to any woman interested in digging deep to make a positive change in her life (professionally and personally). I am very thankful I was able to be a part of something so great!"
Rebecca Waterfield, Program Manager, Advance Auto Parts 
Questions? Email the director, Abrina Schnurman, at aschnurman@hollins.edu.
---
Abrina Schnurman, Director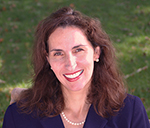 Abrina Schnurman joined Hollins University's Batten Leadership Institute in 2004. She teaches classes in undergraduate and graduate leadership studies programs, conducts Executive Leadership Programs for professionals in open enrollment courses and for organizations, individuals, and closed teams on customized topics. Her particular interest is growing capacity and perspective on feedback, conflict, teams, and decision-making. She holds a Ph.D. from Virginia Tech, Executive Certificates in both Leadership and Management from the Darden School of Business at UVA, and a practitioner leadership certificate from Harvard's Kennedy School of Government.
Want to Know More?
Abrina will be happy to answer your questions about our executive certificate in leadership program.