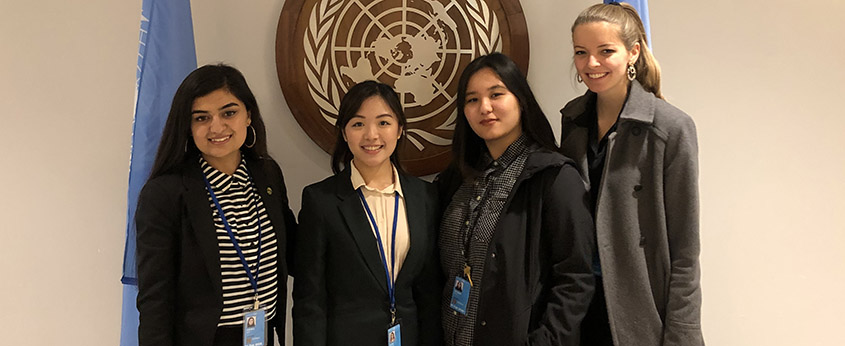 Left to right: Sajila Kanwal '22, Rosie Wong '22, Leena Gurung '22, and Irina Conc '21, during Short Term 2020 at Peace Boat US in New York City.
International internships can be obtained through one of Hollins University's approved study abroad programs or through independently arranged opportunities. Like internships undertaken in the US, these opportunities are designed to help students get hands-on experiences in their fields of interest. Internships abroad, however, also allow participants to gain work-related skills in a global context. These internship opportunities often lead to graduate school and job opportunities. 
Recent International Internships
National Literacy Trust, London, UK
Observatorio sociológico de la Educación (OBSOEDU) – Universidad de Alicante, Spain
Black Beauty & Hair, London, UK
Stonewall – Campaign, Policy and Research, London, UK
St Vincent's Family Project, London, UK
Royal Botanical Gardens – Kew Foundation, London, UK
Art Workshop Lytfa Kujawski, Paris, France
Galerie Eric Mircher, Paris, France
Academie Americaine de Danse de Paris, Paris, France
Hachette Filipacchi Médias, Paris, France
Le Book, Paris, France
Carbonates Global, Paris, France
American Library in Paris, Paris, France
Section Consulaire de l'Ambassade de la République bolivarienne du Venezuela, Paris, France
Can of Worms Enterprises, London, UK
Kew Gardens, London, UK
Whitecoat Productions Ltd, London, UK
National Army Museum, London, UK
Marriott Hotel – Canary Wharf, London, UK
Dennis Publishing, London, UK
Interactive Theatre International, London, UK
St. Vincent's Family Project, London, UK
Nursing Times, London, UK
Graduate and Professional Schools
University of Denver Josef Korbel School of International Studies
London School of Economics
New York University (French Studies)
Maastricht University, Netherlands
Middlebury Institute of International Studies at Monterey
University of Roehampton, London
Jobs
National Council on US-Arab Relations
Japan Exchange and Teaching (JET) Programme
Teach and Learn in Korea (TALK) Program
Teaching Assistant Program in France (TAPIF)
North American Language and Culture Assistants in Spain
Peace Corps
For more information on how to apply for international internships, and what opportunities are available, please contact the International Programs office at 540-362-6214 or abroad@hollins.edu.