In-person events will be free and open to the public if space and COVID-19 safety protocols allow. Some events will be held both in person and online, as indicated. For the latest information about access or to register for a hybrid event on Zoom, please email kidlit@hollins.edu.
2022 Writer-in-Residence
Monday, June 27, 7:30 p.m.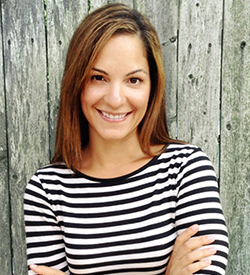 Anika Aldamuy Denise is the celebrated author of many critically acclaimed books for young readers. Her recent picture book biography, Planting Stories: The Life of Librarian and Storyteller Pura Belpré, was a School Library Journal Best Book of the Year, Indie Next Pick, Junior Library Guild selection, and a finalist for the New England Book Award. Born and raised in New York, she now lives in Rhode Island with her husband and collaborator, New York Times bestselling illustrator Christopher Denise. In addition to writing, Denise teaches workshops at The Writers Loft of Massachusetts and Society of Children's Book Writers and Illustrators. She is an advisory board member for the Rhode Island Center for the Book and serves on New England SCBWI s Marguerite W. Davol Scholarship committee.
---
2022 Scholar-in-Residence
Monday, July 4, 7:30 p.m.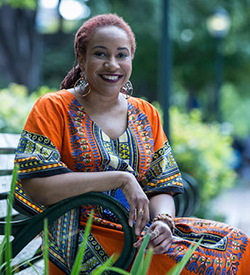 Ebony Elizabeth Thomas, associate professor at the University of Michigan School of Education, has written and co-authored more than two dozen articles and book chapters in numerous academic journals and edited volumes. She has also published two books: Reading African American Experiences in the Obama Era: Theory, Advocacy, Activism; and The Dark Fantastic: Race and the Imagination from Harry Potter to the Hunger Games. She currently serves as co-editor of the NCTE journal Research in the Teaching of English. She is a past National Book Award for Young People's Literature judge (2020) and a current member of the United States Board on Books for Young People. Thomas will be in virtual residence for one week and will give a public lecture and meet individually with students for consultation on scholarly manuscripts.
https://www.ebonyelizabeththomas.com/
Photo credit: Stuart Greenberg.
---
2022 Visiting Author-Illustrator
Thursday,  July 7, 7:30 p.m.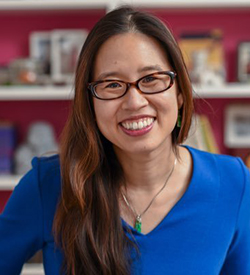 Before Grace Lin was an award-winning and New York Times bestselling author/illustrator of picture books, early readers, and middle grade novels, she was the only Asian girl (except for her sisters) going to her elementary school in Upstate New York. That experience, good and bad, has influenced her books—including her Newbery Honor Where the Mountain Meets the Moon, her Geisel Honor Ling & Ting, her National Book Finalist When the Sea Turned to Silver, and her Caldecott Honor A Big Mooncake for Little Star. But, it also causes Lin to persevere for diversity as an occasional New England Pubic Radio commentator and when she gave her TEDx talk "The Windows and Mirrors of Your Child's Bookshelf," as well as her PBS NewsHour video essay "What to do when you realize classic books from your childhood are racist?" She continues this mission with her two podcasts kidlitwomen* and Book Friends Forever. In 2016, her art was displayed at The White House and Lin, herself, was recognized by President Obama's office as a Champion of Change for Asian American and Pacific Islander Art and Storytelling.
---
Francelia Butler Conference Keynote Speaker
Saturday, July 23, 8 a.m. – 5 p.m., registration required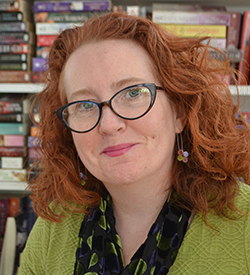 After working for a decade in children's trade book publishing, Jackie C. Horne returned to academia to earn an M.A. in children's literature from Simmons College and a Ph.D. in 18th- and 19th-century British literature from Brandeis University. She is the author of History and the Construction of the Child in Early British Children's Literature, coeditor of two volumes in the Children's Literature Association's Centennial series, and editor of the interview collection Conversations with Madeleine L'Engle. A past board member of the Children's Literature Association, she also served as chair of its Publications Advisory Board, coordinating the organization's book publishing program. A former assistant professor at the Center for the Study of Children's Literature at Simmons College, Horne currently splits her time between scholarship and fiction writing, and crafting smart, edgy historical romance novels under the pen name Bliss Bennet.
---
lecture series
Scholar Anne Phillips
Friday, June 24, 7:30 p.m.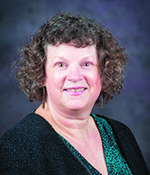 Anne Phillips is Donnelly Professor of English at Kansas State University. She  teaches courses in children's and adolescent literature, including courses in illustration and adaptation. Her scholarship includes analyses of artists' interpretations of novels such as The Secret Garden, The Wonderful Wizard of Oz, Wilder's Little House series, Frindle, and other works. She has co-edited several books about Louisa May Alcott with Gregory Eiselein; with Miranda Green-Barteet, she has co-edited a volume of essays on Wilder's life and works. In her lecture Phillips will show us what makes her an award-winning teacher and scholar of children's book illustration in our graduate programs at Hollins.
https://www.k-state.edu/english/people/phillips.html
Author Meg Medina
Wednesday, June 29, 7:30 p.m.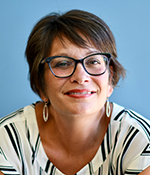 Meg Medina is a critically acclaimed and bestselling author who writes picture books, middle grade, and young adult fiction. Her works have been called "heartbreaking," "lyrical," and "must haves for every collection." Some of her many award-winning titles include Evelyn del Rey Is Moving Away/Evelyn del Rey se muda, winner of the 2021 Margaret Wise Brown Prize in Children's Literature awarded by Hollins University; and Merci Suárez Changes Gears, the 2019 John Newbery Medal winner. When she's not writing, Medina serves on the advisory committee for We Need Diverse Books, the grassroots organization working to produce and promote literature that reflects and honors the lives of all young people. She also works on community projects that support girls, Latinx youth, and/or literacy. She is a board member of the Library of Congress Literacy Awards and a faculty member of Hamline University's M.F.A. in children's literature.
Illustrator Ruth Sanderson
Friday, July 1, 7:30 p.m.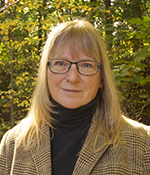 Ruth Sanderson has been creating mythic art and illustrating children's books, book covers, collector's plates, greeting cards, and other products for over 40 years. She also creates coloring books for adults. Founder of the M.F.A. in writing and illustrating at Hollins, Sanderson has been teaching writing and art courses in our graduate programs since the 1990s. In her Chalk Talk she will show and tell about the process of creating her stunning new picture book biography of Rosa Bonheur, an artist and sculptor famous for her lifelike depictions of animals in the nineteenth century.
Professional Panel with Agent Victoria Wells Arms
Monday, July 11, 7:30 p.m.
Victoria Wells Arms began her publishing career as an editor at Dial Books for Young Readers before moving to G. P. Putnam's Sons and then Bloomsbury USA's Children's Division, where she was the founding editorial director and associate publisher working with many award-winning and bestselling authors. In 2013 Wells Arms started her own agency, Wells Arms LLC, which joined in association with HG Literary in 2018. She represents authors of children's books for all ages, a few adult authors, and many talented picture book illustrators. She will discuss professional relationships on a panel with several of her clients who are Hollins faculty and/or alumnae, including National Book Award Winner Han Nolan; prolific author of all genres, Candice Ransom; hilarious Hillary Homzie; and one of her newest clients, Gabriella Crivilare, a Hollins 2020 M.F.A. graduate who also serves as a reader for Wells Arm LLC. Wells Arms has an M.F.A. in writing for children and young adults from the Vermont College of Fine Arts and is a member of the Association of American Literary Agents (AAR).
https://www.hgliterary.com/victoria
Creative Director Sasha Illingworth
Friday, July 29, 9 a.m.
Sasha Illingworth is currently the Associate Creative Director at Little Brown Books for Young Readers where she oversees a diverse list of formats including chapter books, middle grade and teen novels, along with select picture books and graphic novels. After earning her BFA in illustration at the Rhode Island School of Design, she moved to New York where she started her career in publishing as a designer and illustrated over 30 book covers. Sasha has art directed and designed a diverse list of bestselling and award winning books such as; Thank You Omu (Oge Mora), Saturday (Oge Mora), Malala's Magic Pencil (Malala Yousafzai/Kerascoet), Hello, Tree (Ana Crespo/Dow Phumiruk), Parks and Recreation: Leslie For Class President (Robb Pearlman/Melanie Demmer), Strong Mama (Robin Arzon/Addy Rivera Sonda), and many more. https://www.sashaillingworthdesign.com/about
---
Recent Summer guests
David Almond, writer-in-residence
Tom Angleberger, visiting writer
Kathi Appelt, writer-in-residence
Mary Jane Begin, author-illustrator
Cece Bell, visiting writer
Jennifer Brody, visiting writer
Andrea Brown, literary agent
Katharine Capshaw, scholar-in-residence
Veronica Chambers, author and editor
Dhonielle Clayton, COO of We Need Diverse Books and co-founder Cake Literary
Nicole de las Heras, art director
Anika Aldamuy Denise, writer-in-residence
Katherine Erskine, writer-in-residence
Stephen Fraser, literary agent
Patricia Lee Gauch, author and editor
Frances Gilbert, associate publishing director, Random House Books for Young Readers
Marah Gubar, Francelia Butler Conference keynote speaker
Jane Harrington, author
Ben Hatke, author/illustrator-in-residence
Maude Hines, scholar-in-residence
Kaitlyn Johnson, literary agent
Kenneth Kidd, scholar-in-residence
Uma Krishnaswami, Francelia Butler Conference keynote speaker
Kara LaReau, writer-in-residence
Brian Lies, visiting illustrator
Laurent Linn, art director, Simon & Schuster
Mallory Loehr, vice president and publishing director, Random House
Guadalupe Garcia McCall, author
Faith Mendelssohn, scholar-in-residence
Kathleen Merz, editor
Kelly Murphy, author-illustrator-in-residence
Kristen Nobles, art director
Han Nolan, writer-in-residence
Anna Olswanger, literary agent
Nicole Panteleakos, author/M.F.A. student
John Rocco, visiting illustrator
Eric Rohmann, visiting illustrator
Judy Schachner, visiting illustrator
Eric Smith, literary agent Ali Standish, visiting writer
Maggie Stiefvater, visiting writer
Shada Strickland, visiting illustrator
Roberta Seelinger Trites, scholar-in-residence
Charles Vess, visiting illustrator
Nancy Willard, writer-in-residence
Terri Windling, author and editor
Ashley Wolff, author-illustrator
Jack Zipes, Francelia Butler Conference keynote speaker