Todd Ristau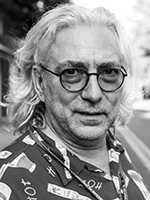 Todd Ristau, director of the graduate program in playwriting; M.F.A., Iowa Playwright's Workshop
Professor Ristau's work has been performed in theatres across the U.S. and England, including London's West End. He founded No Shame Theatre in 1986 and oversaw its evolution into a national network of venues for new works in dozens of cities. He has an extensive theatre background, with expertise in acting, directing, and design. He worked with Mill Mountain Theatre for six years as coordinator of their second stage and as literary associate overseeing new works programming. Ristau served as the first artistic director of Studio Roanoke, a storefront theatre space dedicated to new works development in downtown Roanoke. Ristau is an active member of the Dramatists Guild, and member of Literary Managers and Dramaturgs of America.
Courses: Playwright's Lab, Narrative Theory and Practice, Directors and Playwrights in Collaboration, First Drafts, Banned Plays, Collaborative Art of the Theatre
---
Nicole B. Adkins
Adkins has taught classes and workshops to students of various ages at theatres, K-12 schools, and universities. Her plays have been performed at Children's Theatre of Charlotte, Hollins University, Mill Mountain Theatre, Studio Roanoke, Creative Drama Children's Theatre in Winston-Salem, NC, SkyPilot Theatre in Los Angeles, the American International School in Guanghzou China, and other theatres, schools, and museums nationally and abroad. She has six plays published through YouthPLAYS, where she also serves as artistic associate. She collaborated with Matt Omasta of Utah State University on a book entitled Playwriting and Young Audiences: Collected Wisdom and Practical Advice from the Field (Intellect Press, 2017). Awards include the National Waldo M. and Grace C. Bonderman Award and recognition in the Beverly Hills Theatre Guild Marilyn Hall competition. A Hollins children's literature M.F.A. graduate, Hollins Playwright's Lab core visiting faculty member, and part-time assistant professor at Kennesaw University, Adkins is also a member of Dramatists Guild, AATE, and TYA/USA.
Courses: Writing Plays for Young Audiences, Teaching Theatre
https://www.nicolebadkins.com/
---
Nelson Barre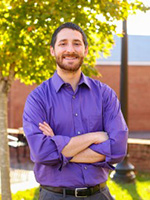 Nelson Barre is assistant professor of theatre at Roanoke College where he teaches courses in Theatre History, Dramaturgy, Musical Theatre, and Race and Theatre. Barre has served as dramaturg and literary manager for theatres in Philadelphia, Galway, and Oregon before settling in Virginia. Favorite past projects include Mr. Burns, The America Play, and a stage adaptation of The Left Hand of Darkness.
Courses: Dramaturgy, Dramaturgs in Collaboration
---
John Bergman
Bergman is core visiting faculty and returns this summer to teach Fundamentals of Drama Therapy and Advanced Performance Techniques. Bergman is a UK born drama therapist/theatre director with over 36 years of experience with prisoners and prison officers, and men, women, and children in all types of criminal justice settings. He is the founder and director of Geese Theatre Company USA, founder/teacher of Geese Company UK, and a board member of Transcena in Romania. He has also worked in prisons in Brazil, Romania, New Zealand, Australia, Bulgaria, and Croatia. He has presented internationally at over 500 professional conferences. He is the recipient of the NADTA 2005 Research Award. Bergman was the clinical supervisor and program creator of a therapeutic neurological program for adolescents in Melbourne. He is the author of Challenging Experience, An Experiential Approach to the Treatment of Serious Offenders, and co-edited Current Perspectives & Applications in Neurobiology: Working with Young Persons who are Victims and Perpetrators of Sexual Abuse.
Courses: Advanced Performance Techniques, Theatre for Special Populations, Fundamentals of Drama Therapy, Practical Elements of Theatre
---
Art Borreca
Borreca is core visiting faculty in dramaturgy, which he returns to teach this summer along with serving as resident dramaturg for the 2018 Playwrights Festival. Borreca is also faculty at the University of Iowa where he is associate professor of dramaturgy, dramatic literature, and theatre history, cohead of the playwriting program, and head of the dramaturgy program.
Courses: Dramaturgy, Advanced Dramaturgy, Selected Dramatists: Brecht, Docudrama
---
KEIKO SHIMOSATO CARREIRO
Keiko Shimosato Carreiro is a collective and board member with the Tony award-winning San Francisco Mime Troupe. Since 1987, she has been an actor, designer, cowriter and director with the Company and has been in almost every summer show. Carreiro has performed at theatres throughout the Bay Area, including Berkeley Repertory Theatre, A.C.T., The Magic Theater, The Aurora Theater, Word for Word, and Center Rep. She was nominated for The Shellie Award for Outstanding Actress in the role of Grace in The Sisters Matsumoto at Center Rep. She is an award-winning costume designer, nominated for TBA Best Costumes, Bay Area Critics Circle award, and recipient of the 2018 Meritorious Achievement Award,(American College Theater Festival). Carreiro teaches with The San Francisco Opera Guilds' Book to Bravo and Voices for Social Justice programs and enjoys raising up the next generation of artist/activists.
Courses: Theatre for Social Change, Non-Western Theatre Practices
---
Megan Gogerty
Gogerty is core visiting faculty and returns in 2018 to teach Theory of Comedy and Playscript Analysis. She is also faculty at the University of Iowa department of theatre, where she teaches dramatic literature and dramaturgy. An award-winning playwright and performer, her work has been produced nationally and abroad.
Courses: Playscript Analysis, Memoir as Performance, Adaptation, Theory of Comedy
---
Saffron Henke
Henke is a member of the performance faculty for the Hollins Playwright's Lab M.F.A. program, and the 2020-21 Bob Moss Residential Professional Teaching Artist. She is also an assistant professor of theatre at Colorado State University. Henke has directed multiple productions, including two collaborations with fellow Hollins faculty, Megan Gogerty. A longtime member of the Actor's Equity Association, she has performed at many regional theatres, including the Oregon Shakespeare Festival, Riverside Theatre, and the Furious Theatre Company. She was also an associate artist and acting company member for four seasons at the Sacramento Theatre Company, and served as director of STC-2, a training conservatory. Henke has taught at the University of Southern California, the Center Theatre Group, and at A Noise Within Theatre, St. Ambrose University, and the University of Iowa. She is the artistic director of The Brink Theatre Company, a company focused on doing site specific new work.
Courses: Advanced Scene Study, Performance as Profession, Ensembles in Collaboration
---
Michelle LoRicco
Michelle LoRicco is an educator, director, and playwright who loves to create and tell stories on stage and in the classroom with people of all ages as the theatre director for Patrick Henry High School. She graduated from the University of Central Florida with her M.F.A., specializing in theatre for young audiences, and she received her Bachelor's in theatre, specializing in musical theatre, at Palm Beach Atlantic University. As a playwright, LoRicco has developed plays for The Orlando Repertory Theatre's Writes of Spring program, and her play When Coquis Sing was produced as a part of The REP's celebration of International Women's Voices Day 2018. She was featured as a part of Endstation Theatre Company's Playwright's Initiative and was a finalist for Childplay's WriteNow 2019 Play Festival. LoRicco was also the associate artistic director for the inaugural season of UCF's Pegasus Playlab 2018, a play development showcase of new work by emerging playwrights.
Courses: Writing Plays for Young Audiences, Teaching Theatre
---
Ruth Margraff
Margraff is an award-winning playwright whose work has been produced around the globe. She is currently writing faculty at the School of the Art in Chicago.
Courses: Playscript Analysis, Non-linear Playwriting, Experimental Playwriting
---
Bonnie Metzgar
Metzgar is a playwright, director, dramaturg, and producer who specializes in creating socially-provocative theatre works. From 2008 to 2013, Metzgar served as artistic director of About Face Theatre in Chicago, the largest theatre in the U.S. dedicated to advancing the cultural dialogue on sexuality, politics, and gender identity. Metzgar is the recipient of a 2018 MacDowell Colony fellowship, the Carl Djerassi Fellowship in Playwriting at the University of Wisconsin, a 2013 NEA commission, and she is a recent member of the Goodman Theatre's resident Playwrights Unit. Her plays have been finalists for the Eugene O'Neill National Playwrights Festival and selected for the Great Plains Theatre Conference in Omaha. Metzgar was a founding member of the National Advisory Committee for Howlround at Arts Emerson, the cocreator of the 365 project with Suzan-Lori Parks, and associate producer at the Public Theater where she was the original producer of Joe's Pub. In addition to being on the rotating faculty of Hollins University's M.F.A. playwriting program, Metzgar has taught at Northwestern, SUNY Purchase, Brown, University of Chicago, Wisconsin, Yale, and DePaul. She is currently serving as director of artistic programs at Pier55. Metzgar received her M.F.A. in playwriting from the University of Iowa and her B.A. cum laude from Brown.
Courses: Playscript Analysis, Theatre for Social Change, American Women Playwrights
---
Bob Moss
Moss has been affiliated with Hollins Playwright's Lab since 2009. He is lead faculty for the New Play Directing Certificate program and for the past five years has served as resident professional teaching artist for the M.F.A. program. He began his teaching career in 1983 at the Playwrights Horizons Theatre School, an affiliate program of NYU Tisch School of the Arts. In 1990 he took over as director of the school and continued teaching there until he left in 1997 for Syracuse University's drama department. He has also taught directing at Ithaca College and SUNY Cortland. Moss has been an artistic director for 37 years, continues to direct regionally, and was recently named a living legend of Off-Off Broadway. He has served on the theatre panels of the National Endowment for the Arts and the New York State Council on the Arts, and the board of the Stage Directors and Choreographers Society.
Courses: Directing the New Play, History of Off-Off Broadway, Advanced Workshop, Structure of the Not-for-Profit Theatre
---
Shannon Robert
Robert received an M.F.A. in scene design from Florida State University. While at FSU, she participated in an international exchange with the Moscow Art Theatre Conservatory. Robert was director of theatre and head of design at William Carey University, where she taught scene design for 14 years. She is currently on faculty at Clemson University. She served KCACTF as Region IV design chair (three years – managed the design exposition), regional vice chair (three years – managed the Irene Ryan acting scholarships), regional chair (one year), and served on national design committees. Robert served on the board of directors, executive committee and long-range planning committee of SETC, and was the Mississippi state representative to SETC for four years. After working in higher education, she managed the paint/craft departments of The Spoon Group Productions in NJ/NY. She has worked internationally in venues in Nairobi, Bratislava, Moscow, and Edinburgh, and has designed for Aurora Theatre, Actor's Express, Mill Mountain Theatre, New Stage Theatre, Auburn University Theatre, Tennessee Governor's School for the Arts (MTSU), Southern Arena Theatre, University of Southern Mississippi, University of West Georgia, SC Governor's School for the Arts, The Fine Arts Center, The Peace Center, and ReelRock Productions. She was a consultant for The Saenger Theatre renovation in Hattiesburg, Mississippi, for Albert and Associates Architects. Robert has worked as an evaluator, respondent, and adjudicator for a number of productions/projects and has presented several workshops and served on panels throughout the U.S. She served as the associate artistic director and scene-designer-in-residence for The Warehouse Theatre in Greenville, South Carolina. She is a proud member of USA 829. She received Atlanta's 2014 Suzi Bass Award for best set design for a musical for Mary Poppins at Aurora Theatre.
Courses: Playscript Analysis, Non-linear Playwriting, Experimental Playwriting
---
Carl Hancock Rux
Rux is an award-winning poet, playwright, novelist, essayist, and recording artist. Rux is the author of the novel, Asphalt (Simon Schuster), the OBIE Award winning play, Talk, and the Village Voice Literary prize-winning collection of poetry, Pagan Operetta. He is the former head of the M.F.A. Writing for Performance Program at the California Institute of the Arts (2006–09) and has taught or been in residence at the University of California– San Diego, Stanford University, the University of Massachusetts Amherst, Hollins University, the University of Iowa, and Brown University. He is the recipient of several awards including the Herb Alpert Prize, NYFA Prize, NYFA Gregory Millard Fellow, and NEA/TCG Artist-in-Residency Fellow.
---
Neil David Seibel
Seibel is core faculty in the New Play Performance and New Play Directing certificate programs at Hollins. He joined the theatre faculty at Auburn University Montgomery after 18 years as a freelance actor, director, and choreographer. A proud member of Actors Equity Association, he spent six seasons as a company member with Theatre Aspen, appeared Off-Broadway in Jonathon Larson's JP Morgan Saves the Nation, originated the role of Lewis for the TV musical Passages: Lewis and Clark, and enjoyed regional contracts with the Denver Center, Arvada Center, Colorado Shakespeare Festival, The Alley Theatre, Actors Theatre of Louisville, Theatre Under The Stars, and Theatre West Virginia. Seibel sang cabaret for five years at Aspen's Crystal Palace and danced most recently for the Montgomery Ballet. He has directed and choreographed for numerous theatre companies across the U.S. and served three years as the associate artistic director of the Brooklyn based ALAT-etc., recognized for its multicultural, multidisciplinary performance works. He has written, devised, and performed several solo and ensemble plays throughout the U.S. and Europe. A Kentucky native, he earned his B.A. in theatre from Northern Kentucky University and M.F.A. from the University of California, Irvine.
Courses: Viewpoints and Composition, Ensembles in Collaboration, Advanced Playwriting Tutorial
---
DOMINIC TAYLOR
Dominic Taylor is a Los Angeles based writer and director whose work has been seen at theatre such as The Goodman Theatre, Steppenwolf Theatre, Ensemble Studio Theatre, and New York Theatre Workshop. He was the Bob Moss Resident Professional Teaching Artist for 2019-2020. His written work includes Wedding Dance, Personal History, Hype Herowas, and I Wish You Love. His directing projects have been as varied as the opera Fresh Faust at the Institute of Contemporary Art in Boston; The Negroes Burial Ground at The Kitchen in New York City; and Ride the Rhythm in the Hip-Hop Theatre Festival in Washington, D.C. Taylor received his bachelor's and master of fine arts degrees from Brown University. He is a member of Stage Directors and Choreographers, a board member of the Givens Foundation for African American Literature, and an associate artistic director of America-in-Play. He is currently a full professor at UCLA, School of Theater, Film, and Television.
Courses: Playscript Analysis, Contemporary Black Playwrights