Each year, our artist-in-residence program brings to campus a nationally recognized artist who produces work and teaches a special seminar. The program honors Frances Niederer, a beloved art historian who taught for many years at Hollins.
2023 Artist-in-Residence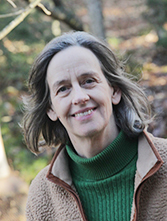 Andrea Sulzer draws, prints, paints, and mixes these disciplines in an intuitive and free-associative process. Her daily practice reflects a constant pull between building a foundation and dismantling it, always trying to get closer to the underlying impulse for making things.
Her work often lives on the edge between object and image, statement and question, figure and abstraction. She is interested in landscape as both setting and character, and as an archive of human experience. In much of her work, forms shift, dissolve, and reorganize themselves like the fluid and unstable nature of memory. How a singular solution is shaken out of limitless possibilities and the role that chance plays in keeping this process open is also an abiding interest. At the heart of her practice is the deep belief in our need for wonder and discovery.
Sulzer has a multidisciplinary background, with a B.A. degree in French, and a Master of Arts from Teachers College at Columbia University. Following the completion of a Master of Science from the University of Maine in forest biology, she worked as a laboratory instructor at Bowdoin College. Fusing her interest in the natural sciences and art, she illustrated a number of books in marine and conservation biology. In 1998, she left Bowdoin College to re-engage an art practice she hadn't revisited since studying fine arts at Smith College as an undergraduate.
In 2004 Sulzer received her Master of Fine Arts degree from the Glasgow School of Art, Scotland. She has been the recipient of fellowships from the Pollock-Krasner Foundation, the Ludwig Vogelstein Foundation, and the Maine Arts Commission, and has held residencies at the Skowhegan School of Painting and Sculpture, the Ucross Foundation, and Surf Point Residency among others.
Sulzer has exhibited nationally and internationally, including in New York, Colorado, Maine, London, Glasgow, and Munich. She has had solo museum exhibitions at the Portland Museum of Art, Bowdoin College, and University of Maine Museum of Art. She also has recently completed a number of large-scale public art projects for Maine schools through the Maine Percent for Art program.
Her work is included in numerous collections: The Portland Museum of Art, Bates College Museum of Art, Bowdoin College Museum of Art, Colby College Museum of Art, The University of Maine Museum of Art, Fidelity Corporation, Syzygy, and numerous private collections in the United States, Great Britain, and Germany.
Sulzer lives in Maine and teaches part time at the University of Southern Maine.
---
Recent Artists-in-Residence
2022: Rita Maas
Rita Maas is a visual artist whose work is grounded in photography and blends the disciplines of drawing and printmaking to playfully construct conceptual based imagery. Working within predetermined systems, she embraces elements of chance and disorder, allowing her materials and processes to speak for themselves. The work often takes on reductive forms as she explores the gap between representational and abstract depiction. How we read, filter, and retain information while examining the space where slippage and illegibility occur are persistent themes of her practice. Born in New York, Maas received her B.F.A. in photographic studies from the School of Visual Arts. She later earned her M.F.A. in visual arts at Lesley University College of Art and Design. Maas has acted as visiting professor at Rochester Institute of Technology and served as visiting artist and adjunct professor at College of Staten Island, CUNY.
2021: Eleanor Ray
Eleanor Ray makes small-scale paintings of encounters with specific places, including well-known or art-historically significant sites, and others more anonymous. As John Yau described her work, "The unoccupied interior or landscape becomes a sacred space, a place of solitude and reflection. The windows remind us that there is an exterior and interior world, and that we always occupy both." Ray received her B.A. in English and art and the history of art from Amherst College, and her M.F.A. in painting from the New York Studio School. Her work has been shown in solo exhibitions at Nicelle Beauchene Gallery, New York; Howard's, Athens, Georgia; and Steven Harvey Fine Art Projects, New York.
2020: Jeff Schmuki
Linking environmental issues to a diverse array of creative operations and tactics, Jeff Schmuki demonstrates the fragile connection between the natural world and personal action. By offering simple, positive changes that can be enacted long after the artist has moved on, citizens become agents of change. His installations, interventions, and collaborations combine activism, research, and science to foster discussion and generate action on ecological literacy. Schmuki is the cofounder of a decade long partnership with artist Wendy DesChene titled "PlantBot Genetics" and is an associate professor of art at Georgia Southern University. His work has transpired at the Carnegie Museum of Art, in Pittsburgh, Pennsylvania; John Michael Kohler Arts Center, Sheboygan, Wisconsin; Central Booking, in New York, New York; Clayarch Museum, Gimhae, South Korea; Goethe Institute, Cairo, Egypt; and the American Academy in Rome as well as CRETA Rome in Rome, Italy, among others.
2019: Diane Edison
One of the country's most prominent professors of studio art Diane Edison's work has appeared nationally in New York, Philadelphia, and Atlanta, and internationally in Russia and Chad. Edison, who creates her work using color pencil on black paper, focuses on portraiture with an emphasis on the autobiographical. Her images are thematically narrative in presentation and psychological in nature. New York City's Forum Gallery, DC Moore Gallery, and Tatischef Gallery; the Leeway Foundation in Philadelphia; and Clark Atlanta University in Georgia are among the U.S. venues where her art has been exhibited or collected.
2018: Zanele Muholi
Photographer, filmmaker, and visual activist Zanele Muholi advocates for the LGBTI community and explores black lesbian and gay politics in contemporary South Africa. Her self-appointed mission is "to re-write a black queer and trans visual history of South Africa for the world to know of our resistance and existence at the height of hate crimes in SA and beyond." Her portraits challenge the stigma surrounding gays and lesbians in South Africa, debunk the common rhetoric that homosexuality is un-African, and address the preponderance of hate crimes against homosexuals in her native country.
2017: Susan Lichtman
Susan Lichtman is a figurative painter of domestic spaces. For 30 years she has used her home and family as a source for compositions based on observation and imagination. Her oil and gouache paintings have been exhibited widely, most recently at Swarthmore College, PA; Smith College, MA; and Gross McCleaf Gallery in Philadelphia. She has earned awards from the American Academy of Arts and Letters, the Tiffany Foundation, and from Brandeis University, where she holds the Charles Bloom Chair in the Arts of Design.
2016: Tip Toland
Tip Toland is a full-time studio artist and a part-time instructor in the Seattle area. Her work is represented in both private and public collections, including Yellowstone Art Museum, Archie Bray Foundation, the Renwick Gallery of the Smithsonian, Kohler Art Center, Nelson Atkins Museum, The Museum of Art and Design, the Crocker Museum, the St. Petersburg Museum of Art, and the Metropolitan Museum of Art.
2015: Lisa Bulawsky
Lisa Bulawsky examines ideas of private life and civic space, which she explores in works on paper, installations, and ephemeral public projects. The Corcoran Gallery of Art, International Print Center in New York, Dalarnas Museum in Sweden, and Opole Contemporary Art Gallery in Poland all exhibit her work.
2014: Ben Grasso
Ben Grasso's large-scale paintings depict familiar objects such as houses and trees that have exploded and are floating in space. His paintings evoke images that are "coming undone and revealing how [they] might be put together again" (Artforum magazine).
2013: Dan Estabrook
Dan Estabrook makes contemporary art using a variety of 19th-century photographic techniques. He balances his interests in photography with forays into sculpture, painting, drawing, and other works on paper.
2012: Beverly Rayner
Cameras have always fascinated Beverly Rayner. She creates mixed-media constructions around photographic imagery, often in a sculptural way, using all kinds of photographic materials, either her own or found.