At Hollins, you'll find a unique community that enhances, supports, and inspires the work and training of dynamic theatre makers, both during and long after your time at Hollins. We call it The Artistic Home.
Passionate alumnae/i.
Hollins has one of the strongest and most ferociously loyal alumnae/i networks in the country, and through this truly unique entity, theatre grads are invited to make Hollins their artistic home.
If you were an active participant and contributed to the undergraduate or graduate theatre programs at Hollins, you are invited to become a member of the Artistic Home, along with former faculty and guest artists.
Connections, connections, connections.
Talented and accomplished alumnae/i return to act, direct, choreograph, build, and design alongside undergraduate and graduate students in main stage, studio, and festival productions, sharing advanced skills and experience, while creating a heighted learning atmosphere for everyone involved. They help maintain the outstanding level of the award-winning work for which Hollins Theatre has become known.
Highly qualified members of The Artistic Home often return as visiting faculty and guest artists to teach regular classes, master classes, and workshops. They combine their understanding of the Hollins experience with their expanded skills to contribute in a way no one else can.
As they move forward, alumnae/i of the Hollins Theatre Institute produce, create, experiment, and celebrate their work in the world, pulling together in cities across the country, while receiving support from the Artistic Home. Current projects in Los Angeles, New York, Minneapolis, and New Orleans involve pockets of graduates who join forces to make theatre on their own terms.
Members of the Artistic Home actively participate in fundraising to support the company as well as the dynamic programs of the Hollins Theatre Institute.
Composer Kate Statelman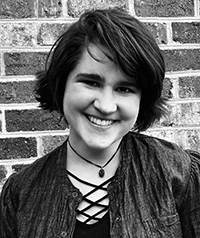 Kate Statelman is a composer inspired by movement, texture, color, and imagery. She received her B.A. in theatre from Hollins in 2021. Led by curiosity and imagination, Kate combines technology and traditional instruments to build unique sound palettes that blend orchestral, folk, and electronic influences. Kate composed original music for the Fall 2021 main stage production, The Skriker by Caryl Churchill.
To connect with the Artistic Home, email: artistichome@hollins.edu.
(Photo, above: from Decision Height)