Hollins University has announced plans to enrich the breadth and scope of its athletic facilities.
By fall 2022, Hollins will begin work on an expansion of the university's Athletic Center and complete several improvements to the Riding Center. In addition, a new track and field area will be on its way to completion and ready by the end of the fall 2022 term.
Artist's rendering of the new strength and conditioning facility.
Highlights of the Athletic Center updates include new spaces for athletic training and strength and conditioning, and a reconfiguration of space to add three new team locker rooms.
At the Riding Center, improvements to the outdoor riding ring will include a regrading of the existing site and installation of all-weather coated dust-free footing in the ring. A new path from the horse barn to the ring will also be installed. The equestrian program will also get a new covered 72-foot six-horse walker with lunging ring.
A new athletic training facility is one of the enhancements planned for Hollins' Athletic Center (artist's rendering).
The initiatives are a key part of Hollins' Imagination Campaign, through which $9.8 million has been raised in support of enhancements. Physical plant upgrades for the athletics program underscore the campaign's focus on enriching student life on campus.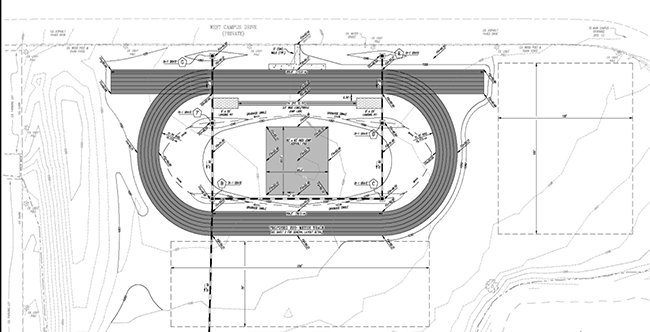 The development plan for Hollins' new track and field facility includes a 200-meter oval track and 100-meter straight track.