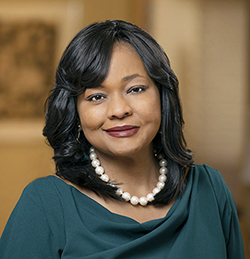 I want thank you for your and your daughter's interest in Hollins University. The college search process is an exhausting, sometimes frustrating, winnowing down of hundreds of possibilities to try and find a best fit based on so many different factors. If you find yourself on this page, I am grateful you have come this far with us.
At Hollins, we are striving to build a community fueled by love: a love that binds us one to the other; a love that binds us to learning and to the liberal arts; and a love that binds us to this incredible and unique campus community of learners. That unifying, connecting gift of love is an imperative for a quality liberal arts education. It demands that we see the best in ourselves and in others.
As the historian William Cronon notes, "Being an educated person means being able to see connections that allow one to make sense of the world and act within it in creative ways." We are and will remain a successful campus so long as we look out for one another, support one another, and lift up one another.
Our liberal arts education commands that we truly connect, and on this unforgettable campus of under 1,000 students, faculty, and staff, you will find those meaningful connections certain to forever shape your future in promising ways.
Mary Dana Hinton, Ph.D.
President
---
Resources for Parents and Guardians
Scholarships and Financial Aid
About Hollins
---
Resources for New Hollins Parents and Guardians
New Student Information
Useful information about how you can best help your student have a successful and fulfilling first year at Hollins.